12.15.2021 Christmas Spirit Week
by Rebecca Bello 12/15/21
It's Christmas Spirit Week around here at Immanuel. Not the kind with Past, Present, & Future, though. We're decking the halls and getting into the mood to party like it's 2021 to celebrate the birth of Christ!
And since flannel is back "in," most of the students didn't even have to sort through their parents closets for the remnants from their younger years.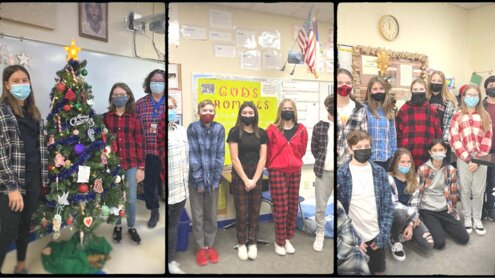 Monday: Disney on Ice (dress as your favorite Disney, Christmas, or winter character)
Tuesday: Toasty Tuesday (wear your favorite flannel shirt)
Wednesday: Red, White, and Green Day
Thursday: Ugly Sweater Day (wear your favorite ugly sweater)
Friday: Warm Fuzzy Friday
We can't wait to see the festive colors, ugly sweaters, & cozy coziness that's still coming this week.
At Immanuel, extraordinary things happen on ordinary days. Especially princess & superhero-filled festive flannel days with some Mickey Mouse thrown in.